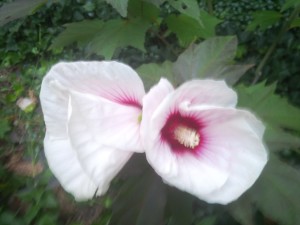 I saw a woman at the Farmer's Market last week with a bouquet of huge dahlias.  They weren't quite dinner plate-size, but they would put the average butter plate to shame.  It occurred to me then that mid-summer is no time for subtlety.  The big, bright colors and shapes of zinnias, cannas, Mexican sunflowers and, of course, hardy hibiscus, seem much more appropriate.  These are plants that have spent the early summer swallowing up the sun.  In August they release all that sunshine through their large, radiant petals.
My upper back garden is home to two hardy hybrid hibiscus, one with enormous red blossoms and the other with gigantic pale pink flowers accented with red "eyes".  The blooms, which open from impressive pointed buds, look like hollyhocks on steroids–and with good reason.  Hollyhocks and hardy hybrid hibiscus are part of the large mallow or Malvaceae clan, which contains at least 95 genera.  The basic mallow flower form, with five overlapping petals surrounding a prominent central stamen column, is easy to recognize.  For many people, the flowers are similarly easy to love.
Hardy hybrid hibiscus are as big as some shrubs, growing anywhere from three to seven feet tall and up to three feet wide.  Compact varieties, like my 'Kopper King', with its red and palest-pink flowers, top out at a more manageable three to four feet tall.  Though shrubby in stature and configuration, these hibiscus are, in fact, perennials, dying back to the ground in winter and rising again starting in mid to late spring.  The elongated, toothed leaves alternate on the stems and can be ovoid, deltoid or somewhat lance-shaped.  Some hybrids may have maple-like lobed leaves.
But nobody buys these giant mallows for their leaves, even when those leaves are dark purple or coppery-colored, as they are on some hybrids.  The flowers are the main attraction and sometimes they grow to 12 inches in diameter.  Mine are not quite that big, but manage a respectable six inches wide.  Probably if I fed my hibiscus aggressively or provided them with wetter soil, they might reward me with bigger blooms. However, since I choose not to dwell in the land of horticultural regret, I am content with the size of the flowers on my plants.
Hardy hibiscus flowers last only a day or two and are not good cut flower subjects.  Fortunately, the buds open in sequence and a mature plant can produce twenty or more huge flowers.  You can deadhead for the sake of tidiness, but the spent flowers also fall readily from the plants.
Some of the hardy hibiscus on the market are cultivated varieties of Hibiscus moschuetos or swamp mallow, a lover of wet ground native to the eastern United States and Canada.  Relatively short of stature and magnificent of flower, 'Luna Red' is one of them.  Most of the other hibiscus with super-size blooms are the result of complex breeding, sometimes involving up to four native hibiscus species.  My 'Kopper King', billed by its creators as Hibiscus x moschuetos, for example, is primarily descended from swamp mallow and Hibiscus coccineus, a red-flowered species that the invaluable Hortus notes " is not hardy much north of Philadelphia".  Clearly the moschuetos parents brought cold-tolerance into 'Kopper King's genetic make-up.
This is not surprising, since 'Kopper King', more properly known as 'Fleming's Kopper King', was born and bred in Nebraska, a state notable for its chilly winters.
And, in fact, the Fleming family of Nebraska bred many hardy hybrid hibiscus at their nursery, Fleming's Flower Fields.  Most of the Fleming hybrids conform to the typical hardy hibiscus colorways of reds, whites and pinks, but the Flemings also ventured into yellow, with the fetching 'Fleming's Old Yella'.
Hibiscus need a sunny location, though they can make do with very light shade.  Consistently moist soil is a "must", because the hardy, large-flowered types all hearken back to their swamp plant heritage.  Mulch will help with moisture retention, especially in conjunction with drip irrigation.  Though the plants look alluring to humans, they are billed as being rabbit and deer resistant.
The garden and landscape possibilities abound with the swamp mallow descendants.  Plant single specimens or small groupings for late summer color.  The varieties with dark foliage, like magenta-flowered 'Eruption', or 'Fleming's Crown Jewels', with red and white blooms, work especially well in beds and borders, maintaining visual interest even when they are not in flower.  If you need a temporary hedge, invest in a variety with attractive maple or oak-like leaves and plant the appropriate number of specimens after all danger of frost has passed in the spring.  Hardy hybrid hibiscus also grow well in large pots, and their tropical looks make them excellent subjects for poolside or patio displays.  Make sure to fertilize and water on a regular schedule, because container culture demands disciplined plant care.
If you install a hardy hybrid hibiscus early this fall, remember that it will die back to the ground in winter.  Next spring, be patient.  The plants are very slow to emerge, but grow rapidly once they are up and out of the ground.
Many retailers carry a variety or two of hardy hibiscus.  For a broader range, go to Forestfarm at Pacifica, 14643 Watergap Rd, Williams, OR 97544;  (541) 846-7269; www.forestfarm.com.  Free paper catalog.